Last Updated on 30/06/2022 by richard
Who can resist a really good, crisp pickled onion with that sharp vinegar twist and a touch of spice or chilli?
We humans have been pickling foodstuffs for at least 4000 years back to the dawn of civilisation. The English historically have tended to pickle onions and cucumbers, probably because these grow well in our climate.
Recipes for pickled onions can be found in print from the early 18th century. The one below is from The Housekeepers Pocket-Book by Sarah Harrison in 1739.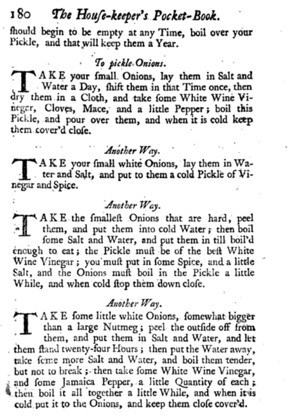 Shop bought ones are nice but home pickled ones are so much better. You can choose which pickling spices you like pepper, ginger, chilli or something more exotic like Jamaican allspice.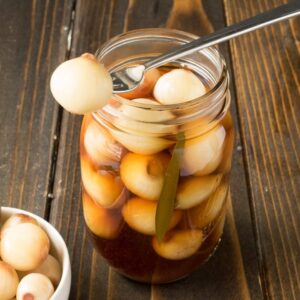 Pickled Onions
Ingredients
600

ml

Sarsons Malt vinegar

500

g

small pickling onions

25

g

table salt

100

g

granulated sugar

10

peppercorns

2

tsp

mustard seeds

1

tsp

coriander seeds

2

bay leaves
Instructions
Put the onions in a large bowl and tip over a kettle of boiling water. Leave for 20 seconds then pour into a colander, return to the bowl and pour over lots of very cold water. The skins should now peel off very easily.

Once peeled, layer in a bowl and sprinkle each layer with salt. Cover and leave overnight or up to 24hrs.

Meanwhile pour the vinegar and sugar into a large saucepan with the peppercorns, mustard seeds and bay leaves. Put the lid on the pan, bring to the boil then remove from the heat and set aside to allow the spices to infuse.

The following day rinse the onions well and pat dry.

Pack the onions into sterilised Kilner® Jars then use a jug to pour over the vinegar, including the mustard, peppercorns and bay, completely covering the onions. Seal and allow to mature for 6 weeks.
YOUR OWN NOTES
Nutrition
Calories:
529
kcal
Carbohydrates:
125
g
Protein:
7
g
Fat:
1
g
Saturated Fat:
1
g
Fiber:
8
g
Sugar:
102
g
Need any kitchen stuff to make this recipe?
Check out my shop!
You may also like …


Grandads Cookbook may reference or include sections of text and images reproduced courtesy of: