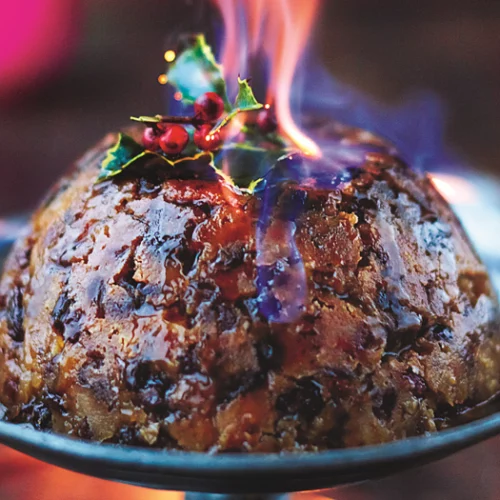 Last Updated on 21/04/2022 by richard
There are more Christmas pudding recipes on the web and in cookbooks than you can shake a stick at, as the old saying goes.
The most often quoted ones seem to be those from Mary Berry and Jamie Oliver. My featured recipe is the one my eldest son uses. He doesn't remember where the original came from but he has tweaked it to our families preferences over the years.
All I can say about it is that it tastes fantastic and is the highlight of our Christmas meal.
History
For many British households, Christmas dinner has to end with a slice of Christmas pudding topped with brandy butter or in my house, lashings of hot custard.
Today's pudding bears little resemblance to the original 14th-century porridge known as frumenty. This concoction of beef, mutton, raisins, wine, currants and spices would be eaten on the run-up to Christmas while all the preparations were underway.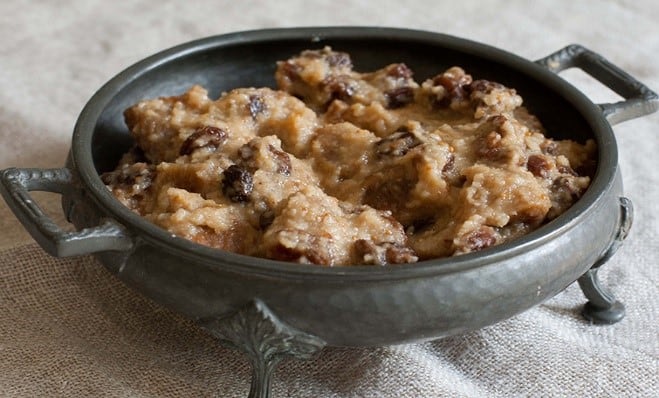 King George I was a fan of plum pudding as it was now known, although it rarely if ever contained any plums?
By 1714 the pudding was firmly established in British society and by Victorian times it evolved into the pudding we know and love today.
Ingredients
Things have moved on thankfully from the historical use of minced meat (that's where the term comes from), thank the Lord.
The mix of ingredients we now use does actually make a dessert and not the main course.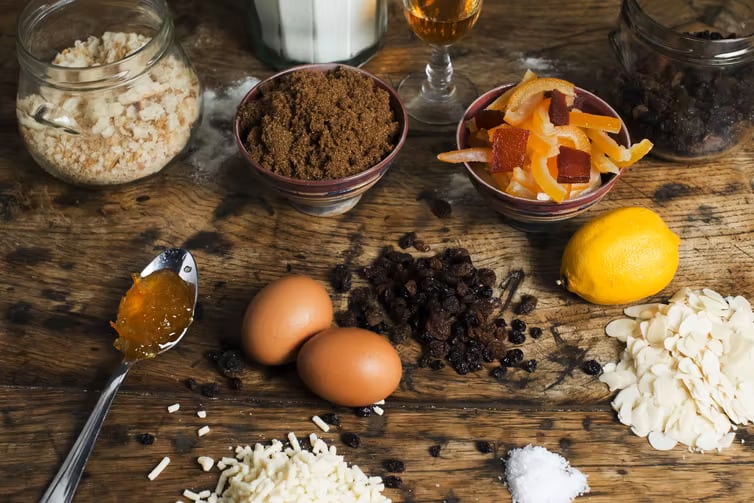 During the inter-war years Christmas pudding was promoted by the British media as a symbol of the British Empire.
Ingredients imported from across the imperial assets of the British crown were collated into a recipe by the King's chef to promote trade.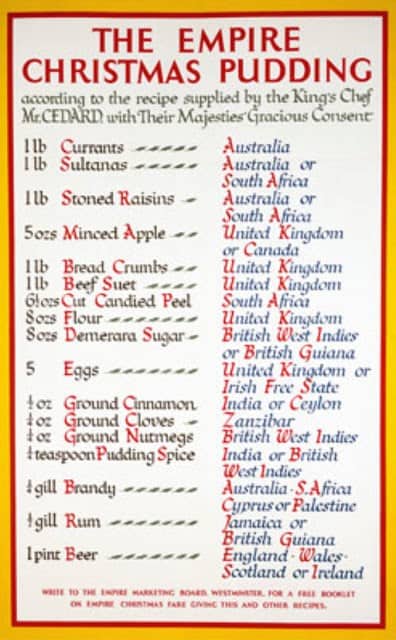 Traditions
There are many traditions associated with the making of a Christmas pudding. Most are religious, some are practical and a few were pure superstition.
Pudding making should commence 5 weeks before Christmas on the last Sunday before Advent, known as stir up Sunday.
Each family member should stir the pudding mixture 3 times while making a secret wish. It should be stirred using a wooden spoon, symbolising the manger, rotating east to west, for the three wise men's journey.
A coin, usually a silver sixpence, (that's pre-decimal for you younger readers) should go in the mix. Whoever finds it in their serving would have good luck for the following year. Decimal UK coins are made from various combinations of copper, zinc and nickel which is not safe to bake plus they go green.
The pudding should have 13 ingredients representing Jesus and his twelve disciples.
Don't forget the unmarried with the pudding stirring. Superstition has it that they won't find a partner in the coming year if left out.
Flaming
Why do we set fire to our Christmas pudding?
It is supposed to represent the Passion of Christ with the sprig of holly representing the crown of thorns.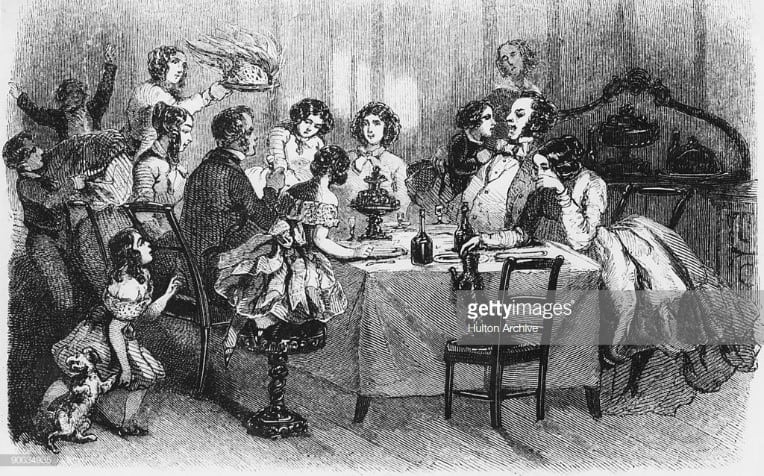 If you do plan to flambe your pudding, heat the alcohol gently first before pouring it over the warm pudding. Trust me, it makes it much easier to light without resorting to a blowtorch.
Maturing
Whether you make your pudding on stir up Sunday or well before, you need to 'feed' it while it matures. Just like Christmas cake, the addition of alcohol, usually brandy, or even Armagnac, my particular favourite, at regular intervals helps things along.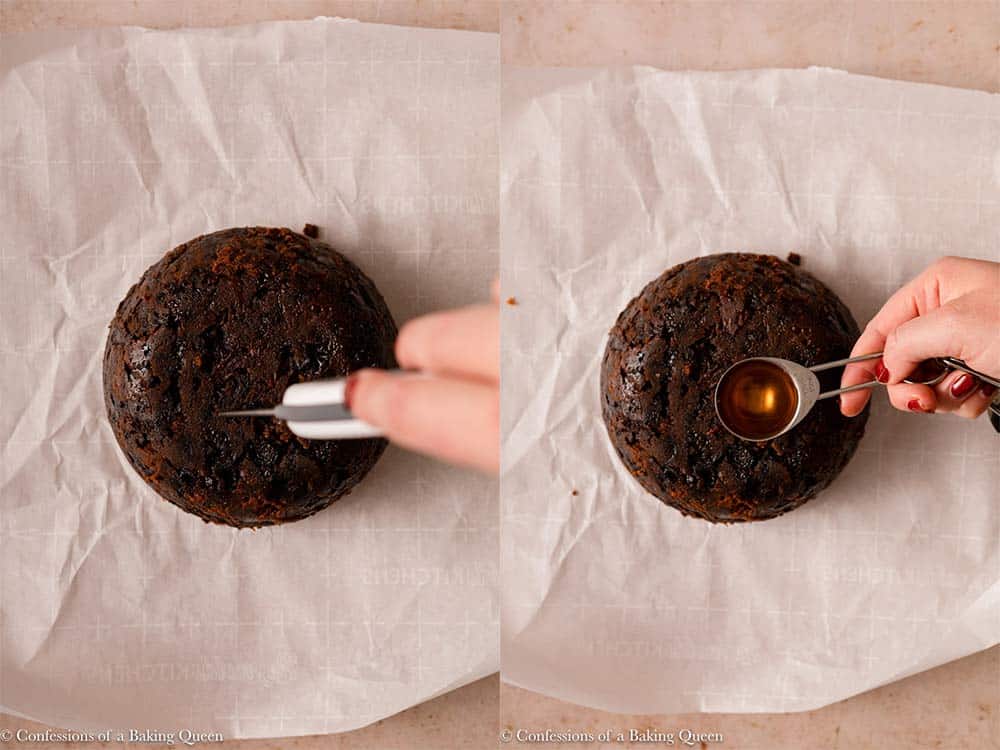 Custard, Cream or Ice Cream?
Traditionally, Christmas pudding is served with brandy butter but I like custard.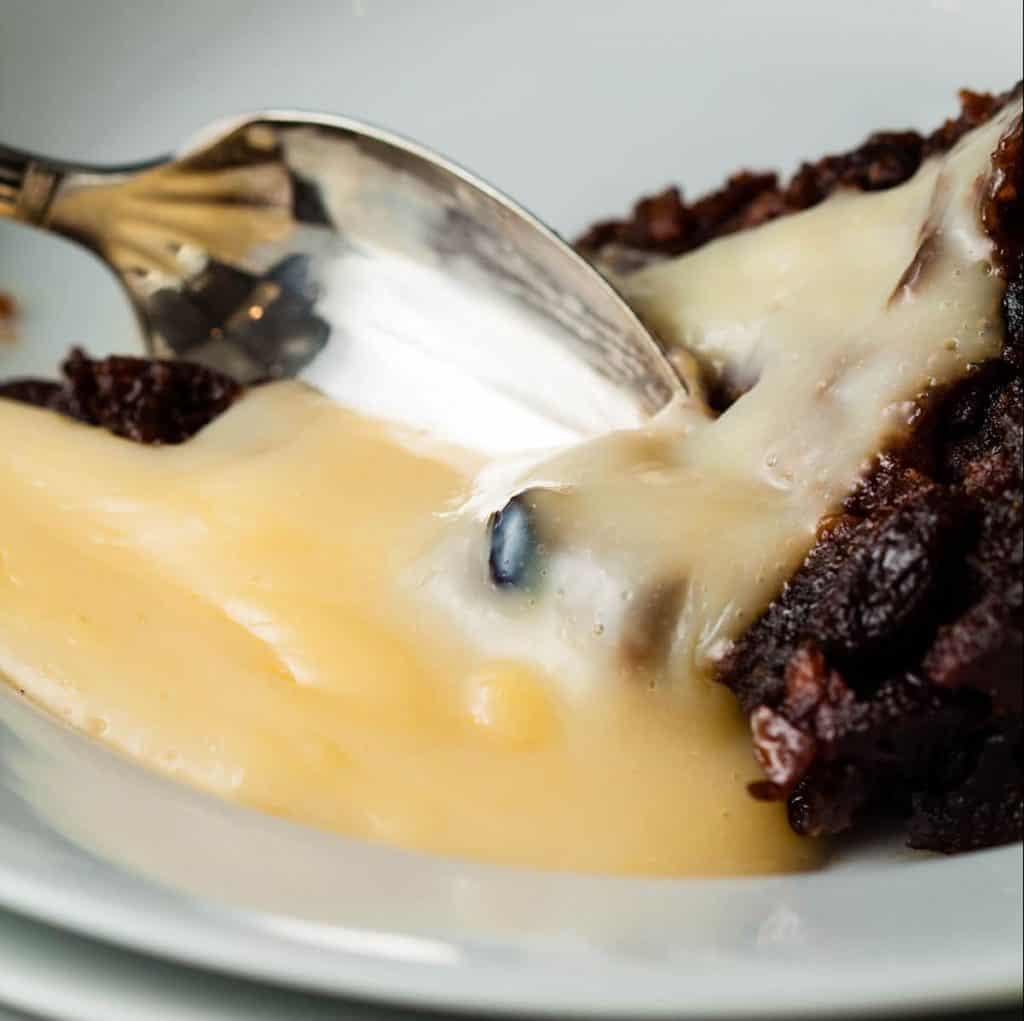 My wife has to have double cream on top with a mince pie on the side. The grandchildren invariably want ice cream. Lately, the daughters-in-law have asked for creme fraiche.
Have I mentioned I like custard?
Buy One Instead
There are some really good ready-made puddings out there as well as some pretty mediocre ones.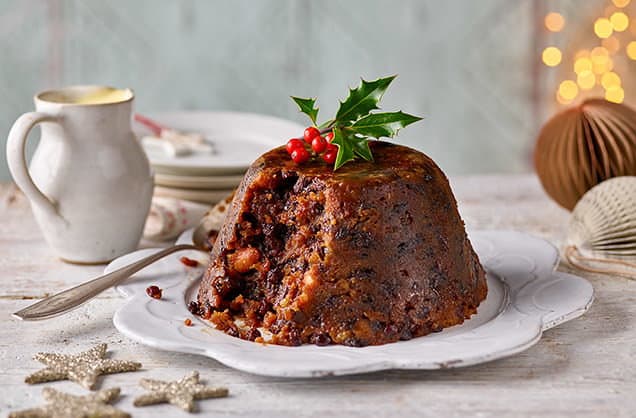 I know not everyone has time to make their own but try if you can, you won't be disappointed.
Other Recipes You Maybe Interested in …..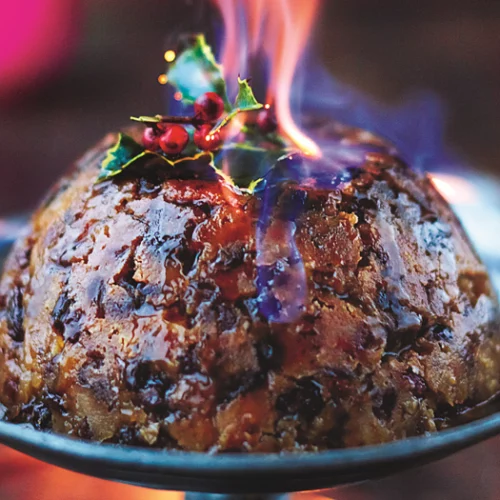 Christmas Pudding
Homemade traditional Christmas pudding
Ingredients
For the Pudding
450

g

dried mixed fruit

use a mixture of sultanas, raisins, and snipped apricots

1

cooking apple

small, peeled, cored and roughly chopped

1

carrot

peeled and grated

1

Orange

finely grated rind and juice

3

tbsp

brandy

plus extra for flaming

75

g

butter

softened, plus extra for greasing

100

g

light muscovado sugar

2

eggs

free-range

100

g

self-raising flour

1

tsp

mixed spice

40

g

fresh white breadcrumbs

40

g

whole shelled almonds

roughly chopped
For the Brandy Butter
100

g

butter

unsalted, softened

225

g

icing sugar

sieved

3

tbsp

brandy

rum or cognac
To Feed:
2

tbsp

brandy

for each feed
Instructions
For the Pudding:
Measure the sultanas, raisins, apricots and apple into a bowl with the orange juice. Add the measured brandy, stir and leave to marinate for about one hour.

Put the measured butter, sugar and grated orange rind into a large bowl and cream together with a wooden spoon or a hand-held whisk until light and fluffy. Gradually beat in the eggs, adding a little of the measured flour if the mixture starts to curdle.

Sift together the flour and mixed spice, then fold into the creamed mixture with the breadcrumbs and the nuts. Add the soaked dried fruits with their soaking liquid and stir well.

Generously butter a 1.4 litre/2½ pint pudding basin. Cut a small disc of foil or baking parchment and press into the base of the basin.

Spoon into the prepared pudding basin and press the mixture down with the back of a spoon. Cover the pudding with a layer of baking parchment paper and foil, both pleated across the middle to allow for expansion. Tie securely with string and trim off excess paper and foil with scissors.
Option – To Steam
Put the pudding in the top of a steamer filled with simmering water, cover with a lid and steam for eight hours, topping up the water as necessary.
Option – To Boil
Put a metal jam jar lid, or metal pan lid, into the base of a large pan to act as a trivet. Place a long, doubled strip of foil in the pan, between the trivet and the pudding basin, ensuring the ends of the strip reach up and hang over the edges of the pan. This will help you to lift the heavy pudding basin out of the pan of hot water when it has finished cooking.

Lower the pudding onto the trivet and pour in enough boiling water to come half way up the side of the bowl. Cover with a lid, bring the water back to the boil, then simmer for about seven hours, until the pudding is a glorious deep brown colour, topping up the water as necessary.
After Cooking:
When cooked through, remove the pudding from the pan and cool completely. Discard the paper and foil and replace with fresh. Store in a cool, dry place. Feed the pudding 4 times between now and Christmas.
To Feed:
Uncover the pudding and sprinkle 2 tablespoons of brandy over the top. Re-cover.
For the Brandy Butter:
Place the butter into a mixing bowl and cream with a wooden spoon until light and fluffy – or for speed use an electric hand-held mixer. Beat in the sieved icing sugar until smooth, then add brandy, rum or cognac, to taste. Spoon into a serving dish, cover and set aside in the fridge.
To Serve:
On Christmas Day, steam or boil the pudding for about two hours to reheat. Turn the pudding onto a serving plate. To flame, warm the brandy or rum in a small pan, pour it over the hot pudding and set light to it. Serve with brandy butter.
YOUR OWN NOTES
Nutrition
Calories:
627
kcal
Carbohydrates:
95
g
Protein:
7
g
Fat:
22
g
Saturated Fat:
12
g
Fiber:
8
g
Sugar:
71
g
Need any kitchen stuff to make this recipe?
Check out my shop!
You may also like …
Christmas Carrots with Herb Butter
The idea behind these Christmas carrots is to make one part of preparing Christmas dinner quicker and easier.
Check out this recipe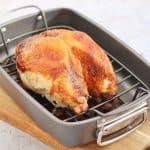 Grandads Cookbook may reference or include sections of text and images reproduced courtesy of: