Last Updated on 13/10/2021 by richard
Caldeirada de Enguias is a Portuguese and Galician fish stew consisting of a wide variety of fish and potatoes. Described as "a fish muddle that varies from town to town and depends on what the fishermen have managed to catch."
Wikipedia
Our version of Caldeirada de Enguias or Portuguese monster fish stew uses conger eel steaks and other white fish, whatever you fancy really.
My parents, owned an apartment on the Algarve for many years and the fish market on the sea front was well stocked with locally caught fish and shellfish. I can vouch that many of the fish for sale caught in deeper water were truly monsters and had lots of teeth!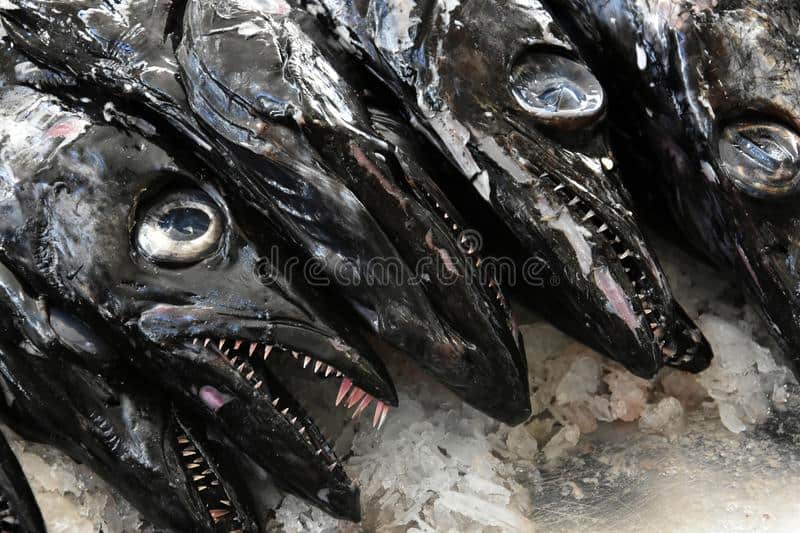 And before you ask, no I never bought any, so I can't tell you what they taste like.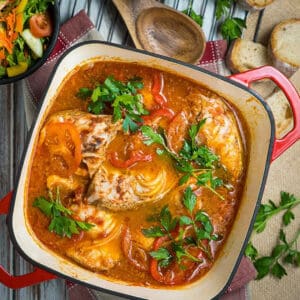 Caldeirada de Enguias
Classic Portuguese Fish Stew with Conger Eel
Ingredients
6

medium onions

chopped

8

cloves

garlic

crushed

2

large green peppers

sliced

75

ml

olive oil

60

g

chopped flatleaf parsley

a good pinch of saffron

450

g

potatoes

diced

2

bay leaves

12

peppercorns

4

large juicy ripe tomatoes

chopped

75

ml

tomato paste

500

ml

dry white wine

250

ml

water

450

g

squid

cleaned

25

clams or cockles

900

g

oily fish

like mackerel, swordfish or tuna

900

g

white fish

like conger eel, monkfish, hake or haddock

225

g

large raw prawns

24

mussels

freshly ground black pepper

30

g

chopped fresh coriander
Instructions
Slowly sweat off the onion, garlic and green peppers in the olive oil for about 10 minutes. After sweating, cover to stew very gently for about 15 minutes, stirring occasionally. This breaks down the green pepper to a more palatable form.

Add the parsley, saffron, potatoes, bay leaves, peppercorns, tomatoes, tomato paste, wine and water. Cover and simmer for ten minutes.

Add the squid and clams or cockles and simmer for another ten minutes.

Add the fish, prawns and mussels in layers. Don't stir this as you'll want the fish to cook in the broth.

Sprinkle with a heavy dose of the black pepper, cover and cook for about ten minutes or until the fish is cooked through and the mussels and clams or cockles are open. Discard any that don't open.

Ladle the stew gently into vat-sized bowls and sprinkle with the chopped coriander.
Notes
Serve with bread. We also like to provide some piri piri as a dipping sauce alongside some olive oil laced with a little truffle oil to dip your bread into.
Nutrition
Calories:
543
kcal
Carbohydrates:
30
g
Protein:
65
g
Fat:
13
g
Saturated Fat:
3
g
Fiber:
5
g
Sugar:
8
g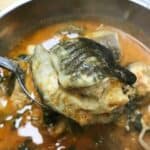 Credits: