Last Updated on 26/05/2021 by richard
Immortalised in 'The Christmas Song' by Nat King Cole, "Chestnuts roasting on an open fire …" they are part of Christmas tradition.
Visiting Trafalgar Square in London to see the Christmas tree is a family tradition going back to my own childhood. Donated annually from the people of Norway to the British people, the tree is given as a thank you for aid provided during the second world war.
The smell of roasting chestnuts, originally over an open brazier, now gas fired is irresistable.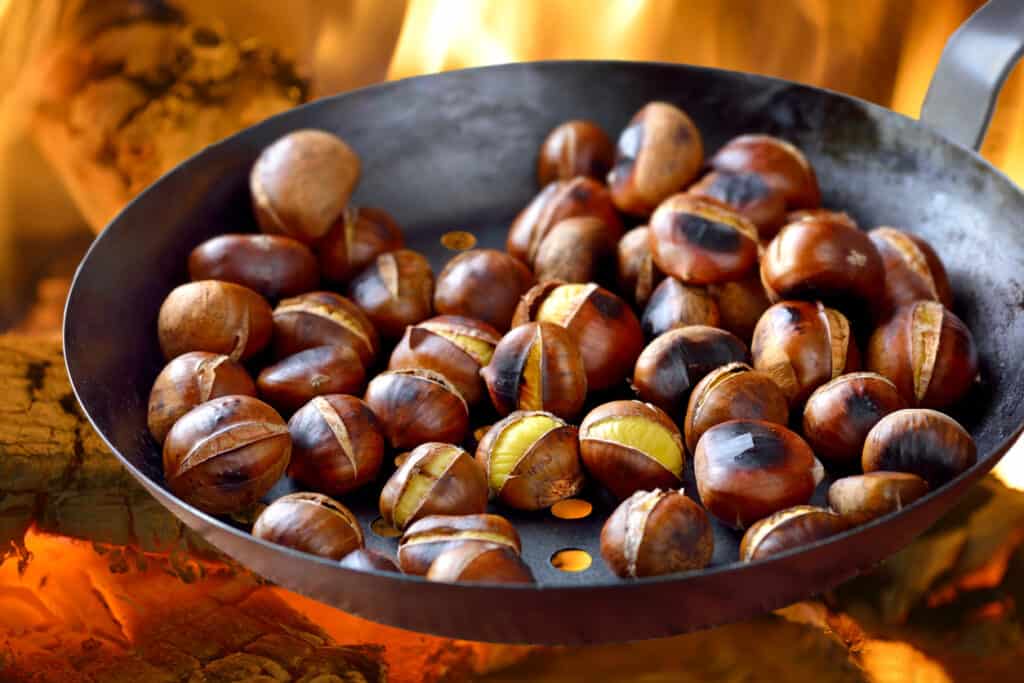 Sweet chestnuts (Castanea sativa) were introduced to the UK by the Romans 2000 years ago. Native to, and widely consumed, across Southern Europe since ancient times (its origins are in ancient Greece), the sweet chestnut has been a staple food (especially in Italy) for millennia.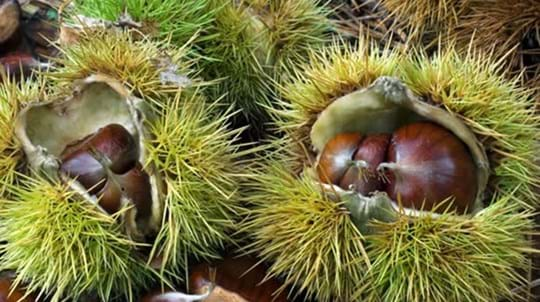 FACT: There are 52 sweet chestnuts dating back to the mid-1600s in London's Greenwich Park. They were planted in avenues by André le Nôtre for King Charles II. The largest has a girth of 7.26m.
You can however, quite easily recreate these nutty treats at home.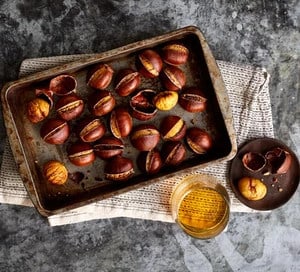 Roasted Sweet Chestnuts
Make a batch of roast chestnuts for a festive Christmas treat to share with guests.
Instructions
Put each chestnut flat-side down on a chopping board. Hold the chestnut carefully and, using a sharp knife, cut a long slit or a cross in the top. Make sure you cut through the shell but not the nut inside. The shell is tough and flexible like a skin rather than rock hard like other nut shells, so a small kitchen knife works well.

Preheat the oven to 200°C/180°C fan/gas 6.

Tip the nuts onto a baking sheet or into a roasting tin and arrange them cut-side up. Roast for 30 mins. The cuts should open up and the shell will start to peel back.

Leave the nuts in the tin to cool down to warm – they will be very hot inside. Put a board on top of the tin while they cool to trap the steam and make them easier to peel. Serve as they are for people to peel, or peel them yourself to use in a recipe.

If you peel them, you may want to remove the inner, slightly fluffy, membrane as well. If the membrane is difficult to get off (it shouldn't be if you steam them as they cool), you can soak the nuts in boiling water for a minute to loosen. Drain and peel.
Nutrition
Calories:
16
kcal
Carbohydrates:
4
g
Protein:
1
g
Fat:
1
g
Saturated Fat:
1
g
Credits: